HOW TO JOIN TWO SHAFTS: 4 METHODS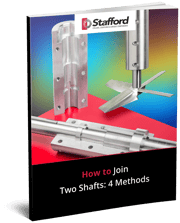 Differences in shaft size are a common issue and are simple to solve. For instance, you may have standard shafts with different I.D.'s or shafts of different shapes and sizes. Rigid shaft couplings can align shafts properly by mating shafts of either equal or unequal diameters while retaining adequate torque transfer and avoiding backlash.
This eBook provides solutions for common alignment or compatibility situations in joining two shafts.
To download your copy, please fill out the form.