A GUIDE TO SELECTING RIGID CLAMP COUPLINGS FOR YOUR APPLICATION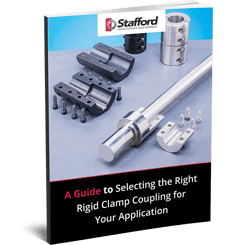 Rigid clamp couplings are mechanical elements designed to
clamp onto and connect—i.e., couple—the driving shaft to
the driven shaft in equipment assemblies. By joining the two
components together, they enable the transfer of rotary motion
that drives operations in automation, motion control, power
transmission, and other systems.
There are a variety of factors to consider when sourcing a Rigid Clamp Coupling for your application, which will greatly influence cost, lead time and ultimately the ideal product. With this in mind, we have created A Guide to Selecting the Right Rigid Clamp Coupling to help. Our guide will walk you through the process of determining the ideal solution for Rigid Clamp Couplings.
To download your copy, fill out the form.