FINDING THE RIGHT BORE CONFIGURATION FOR YOUR APPLICATION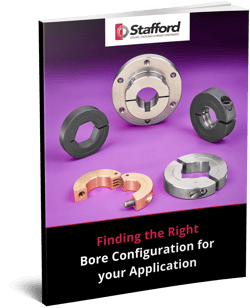 Stafford Manufacturing Corp. designs and manufactures shaft collars, couplings and other specialized mechanical components used in motion control, power transmission, automation, and other MRO and OEM applications. We have shaft collar and coupling bores available in round, keyed, square, hexagonal, and threaded configurations to provide versatility, easy installation, and superior customizability that meets customer demands. Let our experienced team help you find the right bore size and shape for your project.
We have created A Guide Finding the Right Bore Configuration for your Application
To download your copy, please fill out the form.