ADJUSTABLE LINEAR MOTION DEVICES eBook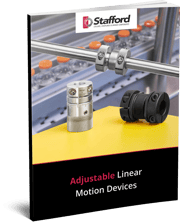 Shaft collars are essential machinery components that handle tasks ranging from spacing components in gearbox assemblies and acting as a mechanical stop to securing sprockets and bearings on shafts. At Stafford Manufacturing, we've created a line of adjustable thrust collars that can be rotated to provide axial adjustment. Once this collar is installed on a shaft, operators can rotate and move the collar with extremely fine control.
We have created A Guide Adjustable Linear Motion Devices
To download your copy, please fill out the form.